The financial impact of the COVID-19 lockdowns has seen many small businesses close. However, for those who have re-opened their doors, the most pressing question will be "How Can I Win Back My Customers?" Therefore, rebuilding your customer relationships will be critical to success.
During the extensive periods of lockdowns, many of your customers will have altered their buying behaviours. Relying instead on online services for a wide range of products and services and this has resulted in a significant shift in business marketing approaches.
It's possible that many of your established customers will re-engage with you. However, given the uncertainty for all small businesses, you cannot afford to rely on the majority returning to business as usual with the same pre-lockdown customer relationships.
This begs the following question for all businesses reopening…
Which of my clients are no longer trading and how do I manage this?
The most critical information your business needs is just how many of your past clients are still operating and who have ceased trading. This will also help you identify how to rebuild your customer relationships moving forward.
Our step by step guide
To establish this, you will need to access your most recent database of all customers and contacts. Your CMS should provide you with lists ideally looking at the dollar value of each customer to your business over the past 12 months and year on year. The lists generated, can then be used to initiate direct phone contacts with all your top-spending 2 to 300 customers. This is critically important and is a priority for scoping the current value of your customers who are now open and trading.
Assuming you also have a marketing automation platform and up to date database (e.g., Mail Chimp, Campaign Monitor or Active Campaign) linked to your CMS, you can then remove all those customers who are no longer operating.
Once your marketing database list is cleaned up, you can then create an email marketing campaign to advise all those valued customers who are open for business that 'We are Back and Here to Help You'. It's a fact that email marketing still generates significantly high ROI versus other digital marketing methods — around USD$42 back for every dollar spent. Your marketing platform can then generate an email report based on the success of each email campaign, with insights on:
– Delivery results: The number of customers who have received your email.
– Total opens: The total number of times the campaign was opened by recipients.
– Bounced emails: The number of recipients who registered as a hard or soft bounce (no longer with the client or out of office).
– Unsubscribed: The number of recipients who opted out of your emails using the unsubscribe link in this campaign.
Don't forget to also reach out to customers via other social channels as well! Adopting an omnichannel approach to marketing is a great way to strengthen your customer relationships.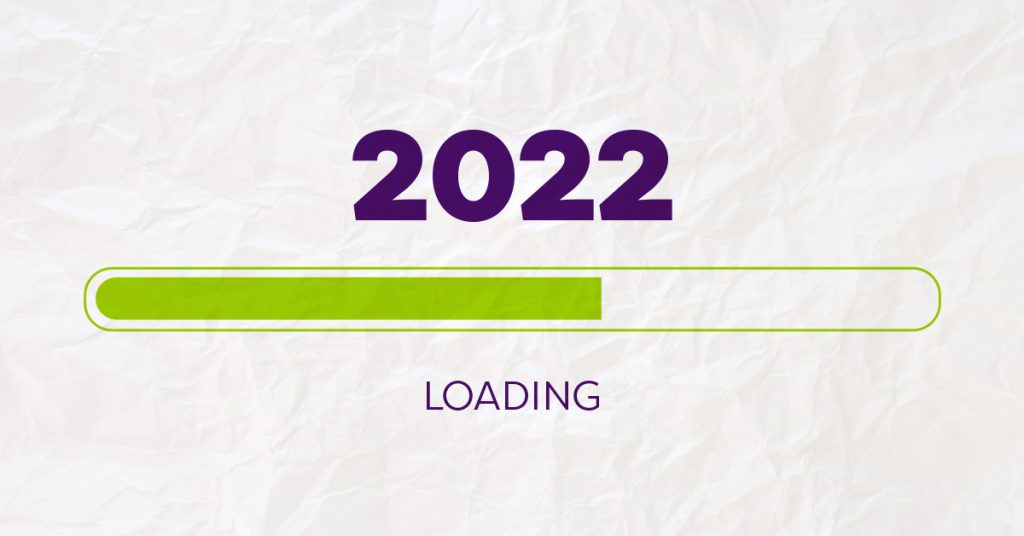 What Lies Ahead for in Your Business in 2022?
No doubt your business is like most others, you have already started planning your marketing strategy for 2022, with a list of goals to achieve for your company. You should have also identified the customer relationships that need rebuilding and those that you might like to target.
After surviving a very tough and unpredictable year, you may have also determined that 2022 should be a vastly better year for your company's bottom line.
However, like all businesses disrupted by the COVID-19 lockdowns, without a clearly defined marketing strategy in place, rebuilding your customer relationships and finding new prospects could be a very difficult and challenging task.
Make the 80/20 Rule Your Revenue Growth Formula in 2022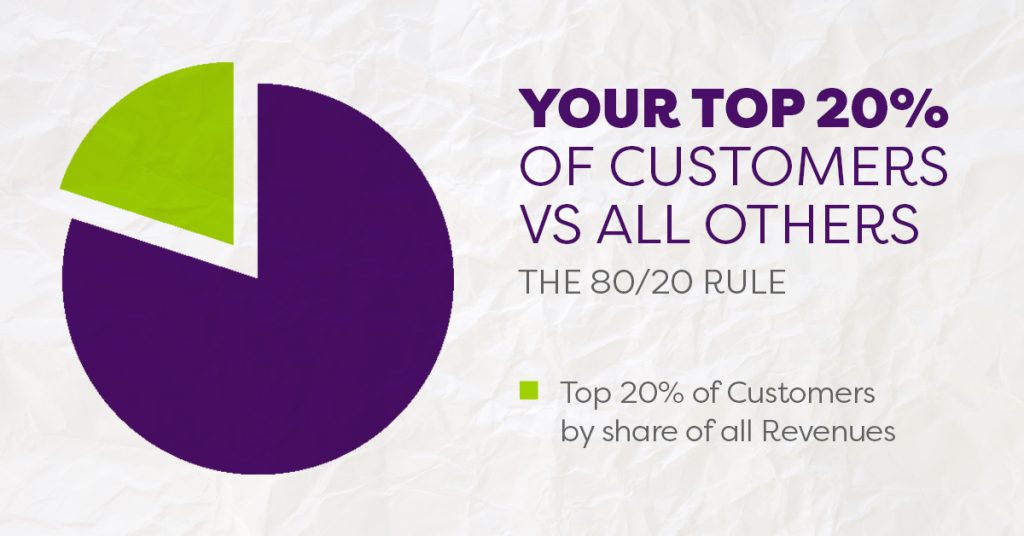 For B2B companies, applying the 80/20 rule to business growth has proven to be a game changer in developing new business from the existing top 20 percent of customers.
Put simply, your top 20 percent of existing customers will generally produce 80 percent of your revenue (or profit). Therefore, it makes good sense to realign your content and marketing strategy to place major focus on this 20 percent.
Often, businesses today spend a great proportion of their time, energy, and budget on generating new leads to spur growth. However, over many years and economic downturns, capturing leads and converting these leads into customers is time-consuming, expensive and delivers low yield results.
The best marketing strategy yet!
The 80/20 rule has been proven to be the best marketing strategy. By spending more of your budget dollars and time to cultivate referrals and new business from your existing top 20 percent of customers, you will produce long-term value, sustained growth and build stronger, long-term relationships.
We know that it is easier and more profitable to secure work from existing clients Vs finding and securing work from new clients. This is where having strong customer relationships become critical to success.
Where does lead generation come in?
This doesn't mean you should be totally neglecting new lead generation. This should be supplemented by a reasonable allocation of your resources to lead generation, new customer relationships and conversions.
So, by working smarter in fostering and preserving top spending customers, you are also heeding the advice of the notorious American bank robber Willie Sutton:
"Go where the money is and go there often."
The 80/20 rule should apply across your marketing, sales, content strategy and associated resources, so you can focus your energies on building and maintaining real growth!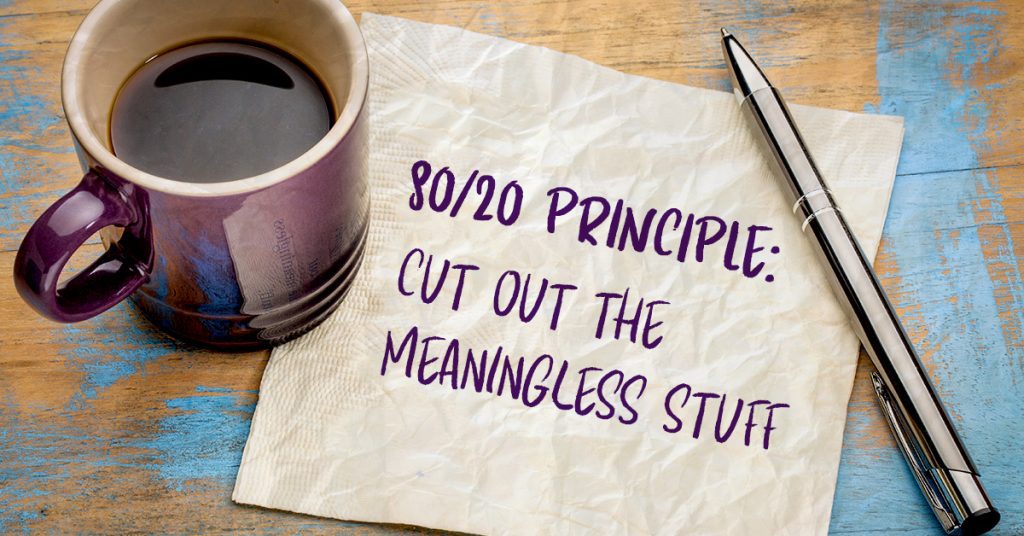 3 Essential Marketing Tips to Get You Ahead in 2022
A successful marketing strategy first needs to be defined and aligned to your specific business goals. This is a critical first step to ensure your content strategy will be more effective and affordable. However, reaching these goals is what matters at the end of the day. A strategy-led marketing system will also be more effective at generating leads, increase sales conversions and gaining more customers. Without this strategy, you risk wasting valuable resources of time and money on a tactical lead approach.
But, how do you do this?
1. Ensure that you've outlined specific business-oriented goals for your marketing tactics to reach for. Ask yourself:
How many sales do you want to make?
How many new leads are you looking to create?
How many new customer relationships do you want to build?
And how are you going to do that?
2. Marketing doesn't work the same as it used to as the consumer mindset has shifted radically. In fact, it's far more difficult to keep a potential client's attention these days. Now, you must reach your target audience, engage that target audience, and keep that target audience's attention, differently to the past.
3. Today, current clients and potential clients don't really care about your products and services. They want to build a strong customer relationship and have their problems solved by you. Therefore, you must pinpoint what those problems are, and make it clear that you understand their pain points and address the problem triggers.
There are many ways that you can strengthen your content and marketing efforts and build stronger customer relationships that will result in sales.
As a content design and marketing agency based in Sydney, we have a few tips that will help you out.
Watch: How Do I Make My Marketing Proactive Not Reactive?
Are You Using Your Business Website Effectively to Build Customer Relationships?
Your business website serves as the centre of your digital world and acts as your content marketing hub. The majority of customers will check a company's website before they make a purchase.
It's surprising that most people don't take full advantage of everything that a website can do to help their business grow.
Your website can help you by:
– Being discovered by potential customers
– Building trust with your business / local community
– Educating your audience
– Informing your readers
– Nurturing your leads
– Converting those leads
– Attracting ideal clients
To take advantage of what a website can do, you must take full advantage of everything that you can include or post on your website. DesignRush provides examples of some of a variety of different website designs for 2021-22.
What Must I Include On My Website?
There are a few important rules to follow if you want to make the most of your business' content hub and leverage this to build customer relationships and drive leads and ultimately sales.
MAKE A PROMISE
Most small businesses showcase some sort of promise on the homepage of their website.
This promise is usually a statement that helps your customers understand what their problems are and that you are dedicated to finding the best solutions – this problem-solving approach will bring benefits to their business.
Remember to stay focused on solving your customer's problems with this simple formula:
Problem + solution + benefit = Your Promise!
By doing this well, you are effectively building a strong customer relationship which will drive referrals and return business.
SET A CALL TO ACTION
A call to action is normally used throughout websites multiple times to encourage visitors, and potential customers to look at a business' products and services.
These calls to action can be as simple as asking for a phone call, requesting more information, scheduling a consultation, downloading a free document, or participating in a piece of research or a survey.
Use them wisely and regularly to make it easy for a visitor to know what you want them to do.
USE VIDEO CONTENT
These days, videos are necessary for every business as the escalating social media push has transferred video from a "nice-to-have" to a "must-have." Videos are more engaging and potential customers can get a real sense of who you are and what your business stands for.
In fact, 93 percent of marketers have noted that videos already play a significant role in their marketing strategy.
There is no better way to consolidate a new customer relationship, than using videoed client testimonials. Why write it when your happy customers can say it for you?
SHOW TRUST ELEMENTS
Trust elements are important elements that can help you build trust with potential customers and clients and further solidify a customer relationship.
Represent your brand with a professionally designed logo to help people associate your business with positive qualities.
Share testimonials of past clients, as these are great for your potential new customers to look over before they get into business with you.
Include affiliate logos and registrations on your site. If you want to use an affiliate's logo which promotes their products or services, they will usually be happy to grant permission but make sure you check first.
Make trust elements easy for your visitors to find. Showcase them on your homepage or make a new page dedicated to why potential customers should choose you.
FRESH CONTENT AND CONTENT UPGRADES
The number one discipline with content is to keep it original and consistent. Make sure that you're posting fresh and unique content that engages and educates your audience.
Your visitors should notice a new blog post on your site regularly. This shows your website is current and customers see you are relevant, and your product is useful. It confirms that you are across trends and issues in your industry, and this works well to show new customers that you care about building relationships.
You should offer content upgrades that allow your visitors and readers to download premium content in exchange for an email address. You can track the downloads for this content, and determine what your audience is interested in.
You can also use the information that they give you to nurture them through to a sale of your product or service. Send informative, helpful emails and show them why they should choose your product. Remember, there is no better way to build a customer relationship than by Stop Selling and Start Helping.
CREATE A LEAD GENERATION AND CONTENT PLAN THATS BUILDS CUSTOMER RELATIONSHIPS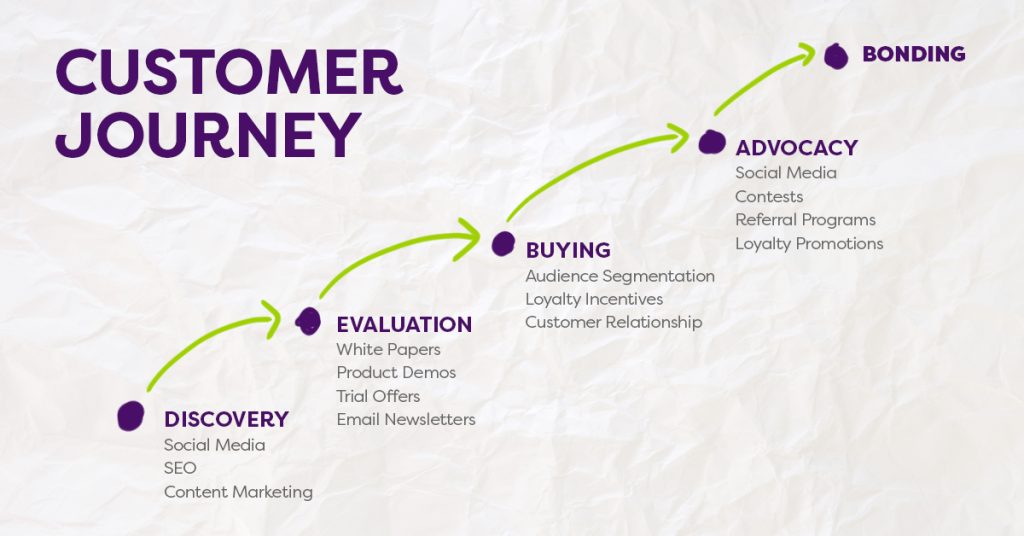 You cannot do anything until you have a content and lead generation marketing strategy. So don't try to wing it.
Working across the SME sector, our content design and marketing agency identifies the right kind of content for a business to be generating and plans content that aligns with their audience's expectations and their business' goals.
We ensure that each piece of content is related to clients' wants, needs, and desires. Importantly, we also design the right kind of visuals that will really help "stop the scroll" and engage a prospective customer. At the core of all this, is to continue to build strong customer relationships that will result in referrals and repeat business.
Outsourcing Your Business Marketing
Marketing strategies fail way too often. People run out of time and don't make specific goals. The truth is that they don't have enough time and they might lack the skill but commonly, they fail to be able to maintain the momentum consistently.
Outsourcing your marketing and content design to an expert marketing and content agency has many advantages that I have written about previously. (insert hyperlink to Outsourcing article)
Outsourcing your business marketing doesn't mean that you're giving up or going to lose control. It means that your marketing can be delivered efficiently and consistently, gently building your customer relationships in the background and ultimately, this saves you time and money.
Importantly, it also allows you to focus on what you do best: Running your business!
It's never too late to fine tune a business marketing strategy for the year ahead. Just don't wait until 2022 to get started!
Want to check out how your current marketing stacks up and see what needs to change?
Take 5 minutes now and complete our FREE Marketing Check Up and have the report emailed to your inbox.
Content Box Marketing Check Up
Answer a few questions about your marketing to see how you're doing. You'll get instant access to a detailed Check Up Report along with suggestions for improvement and marketing tips via email.