Having just emerged from a period of lockdowns driving months of uncertainty, worsening financial predictions and consumer spending bottoming out, what key marketing trends are emerging and what's in store for 2022?
With so many businesses shutting down, the majority of those who are reopening still face ongoing challenges to rebuild their pre-COVID revenues.
In a post pandemic market the economic conditions across all sectors have changed irreversibly. This new climate forced many businesses to reinvent their business strategy just to survive, and those who had already done so during the crisis, are now already experiencing strong growth!
Let's look at what we predict the key marketing trends to be in the year ahead, consider what you need to change and what you can initiate, to quickly rebuild your existing customers' loyalty.
COVID as usual in 2022
Living with COVID will become part of everyday life – 'a new normal' for want of a cliché and maintaining high vaccination rates will be key.
According to Deloitte, vaccinations are the best possible stimulus for our ailing economy – everything from wages, to unemployment, to hospitalisation and hairdressing – all depend on vaccinations.
Even though COVID outbreaks could be an ongoing health issue globally, and possibly re-emerging like the annual winter flu, here in Australia, the mechanism for controlling the 'living with COVID' impact will be through high vaccine booster shots country wide.
The latest emergence of the Omicrom COVID 19 variation, is making many countries nervous. But we know that moving in and out of lockdown is something that neither Governments want to enforce nor will the public accept. Finding a way of managing outbreaks will be critical in the year ahead.
Business set to accelerate in early 2022
With double vaccination numbers growing across the country. The recent controlled opening of international travel and inbound tourism, dining, sports events, entertainment venues and retail shopping, will help boost sales growth. This will be an important contributor to help boost our economic revival in 2022.
As Australians return to life and business as usual, growing consumer confidence and spending, and a resurgence in employment, will contribute to a more stable business environment in 2022. This will be a critical element for smart marketers.
Are Your Marketing Preparations Ready for Business Growth in 2022?
With the right strategic planning focus for 2022, you could generate many new and unique revenue opportunities for your business.
Knowing what some of the key marketing trends are will assist in making your plans to develop an optimal revenue growth plan.
Identifying the resources required to execute your plan by asking 'What do we change and what needs to stay the same to build sustainability and resilience into my business?'
Right now, is the ideal time for you to begin fine tuning your business model by refining your existing customer base and leveraging this with a powerful marketing and content strategy.
This strategic focus should also include an allocation of funds and resources for engaging with new customers. These customers could quickly generate new and ongoing income streams for your business.
To remain competitive and market resilient, your content marketing strategy must also adapt quickly to external market influences that might impact your revenue expectations.
The Content Marketing Awakening in 2022
Understanding the different buying processes, decision factors and pain points will be key when understanding the emerging marketing trends.
Fundamentally though, understanding the impact of the pandemic on the changing needs and expectations of customers, will be one of the big challenges facing businesses as we head into 2022.
Companies are waking up to the power of content marketing due in part to the pandemic.
When B2B Marketing Zone asked 'How does your content marketing look post-pandemic?' the following responses revealed:
'Who would have thought that a pandemic would be the thing to finally bring content marketing out from behind the shadows and into the forefront of marketing communication?'
'The pandemic reinforced the importance of our content marketing strategy. There had been a commitment to it, but now that commitment is company-wide and there is more collaboration between marketing and sales.'
'The pandemic allowed our content marketing approach to come front and centre for the whole organisation and our leadership team. We now understand the power of what content can do…'
Planning, defining, and then implementing are vital to any content design and marketing strategy and without it, your business with struggle to get ahead even if you are abreast of the marketing trends in the year ahead.
WATCH: WHY ARE GOALS AND CONTENT IMPORTANT?
Content marketing budgets set to grow in 2022
While forty-three percent of marketers say 2021 budgets were higher, sixty-six percent expect increases in their 2022 budget. (20 percent say the increase will exceed 9 percent).
Among the areas of investment in 2022, more than half of the marketers expect increased spending in video, events (digital, in-person, hybrid), owned-media assets, and paid media.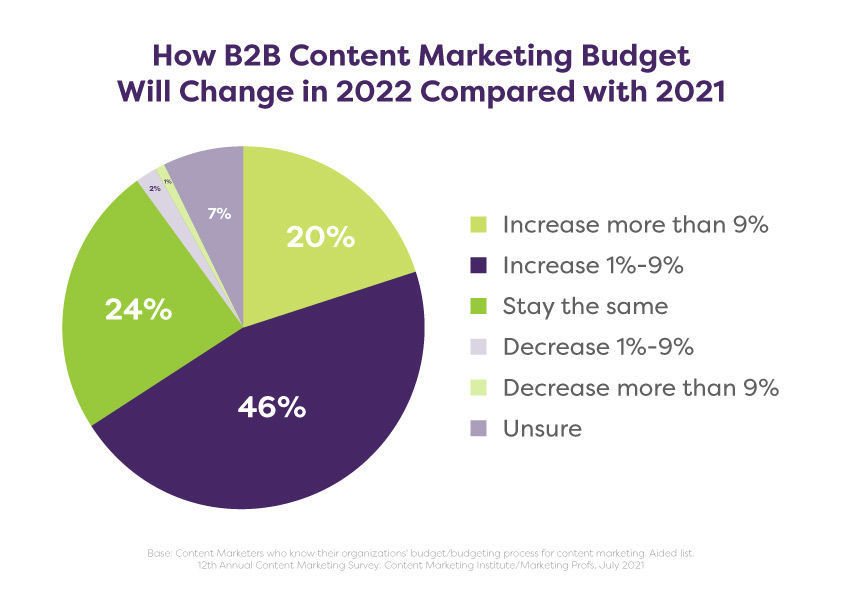 Digital events top B2B Content Assets for best results
The trend favouring digital events over in-person events continues. Virtual events/webinars/online courses produced the best content marketing results in the last 12 months among all formats.
Hybrid events and business landscapes are set to continue as the nature of the way we worked and interacted in the past has shifted significantly.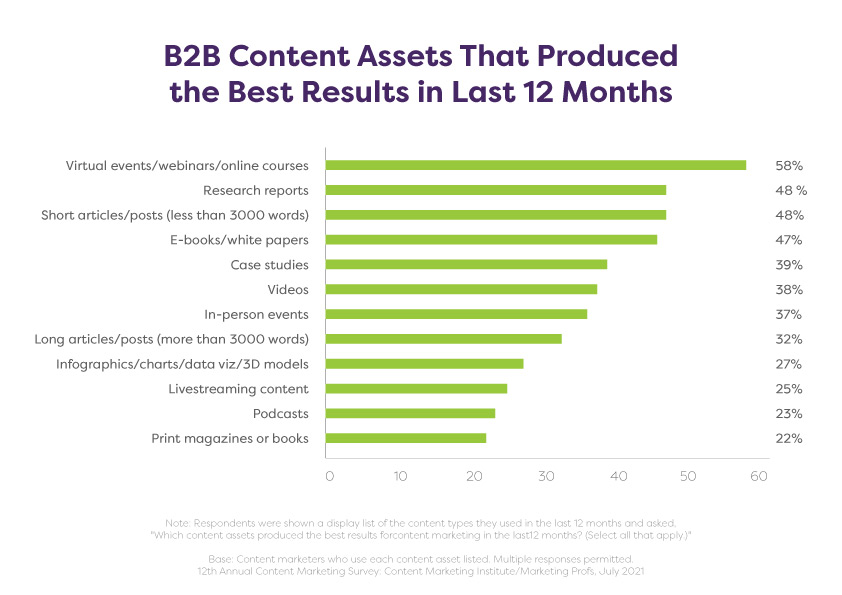 Understanding Key Marketing Trends for Success in 2022
Influencer marketing is set to increase as businesses start to increase their audience and amplify brand messaging. This will work well with a correct strategy planned and implemented only when aligned closely to the goals, overall vision and repositioning of the business.
Video content marketing will play a key role. We already know the power of video content as audiences crave to consume smaller bite sized pieces of information. Long form video content will become less popular and short snapshot pieces that bring quick value, teach and show people, will take over.
Live video will increase as people spend more time engaging with live content Vs pre-recorded content.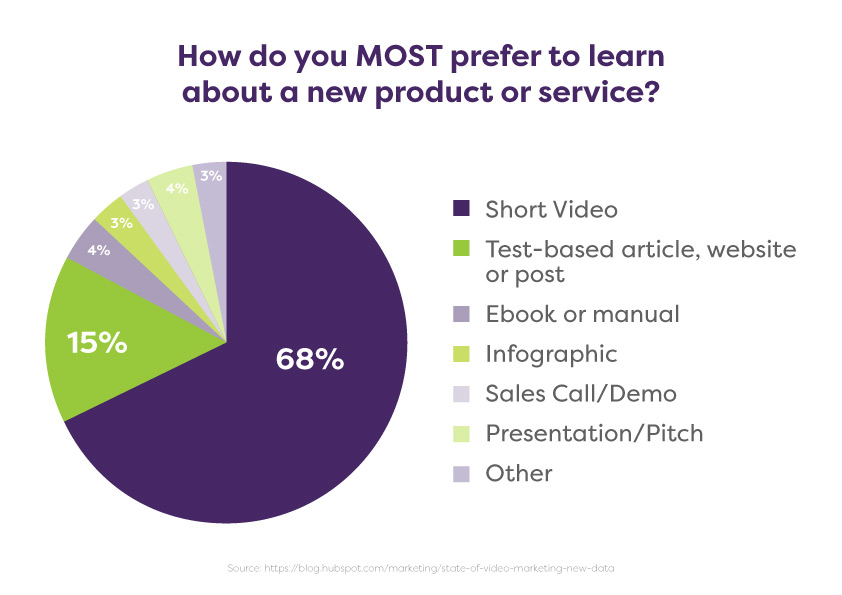 Other forms of video such as staff testimonial videos will be important to showcase your business as a 'preferred place to work'. Testimonials from staff will address the competition to attract and retain a skilled workforce, and to also promote employee knowledge, skills, and attitudes.
Marketing Insiders reported that at least 46% of consumers will abandon a brand if its employees are not knowledgeable. Also, staff having a bad attitude or unfriendly service are the two highest factors, with over 60% stopping customers from doing business with a company.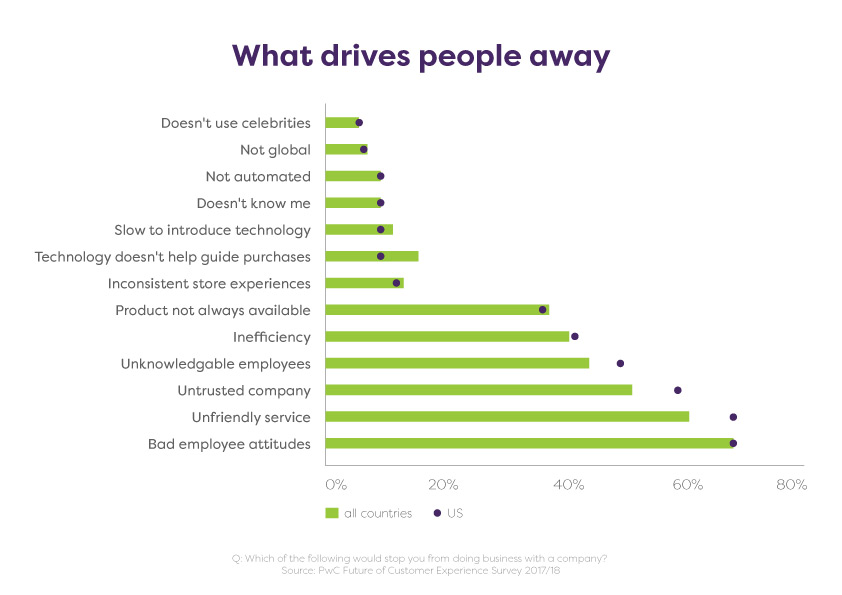 Social responsibility and accountability is another emerging marketing trend. People are taking more care over the brands they interact with.
We have already seen an increasing preference for consumers doing business with companies that advocate a strong social responsibility. This will continue, and businesses will need to place more emphasis on promoting their role in 'doing good in community' and being accountable for their actions.
Many brands have already made this shift, but moving forward, all brands will need to display ethical behaviour, have their values closely aligned with consumer values and expectations, in addition to just 'being green'.
Are you socially responsible?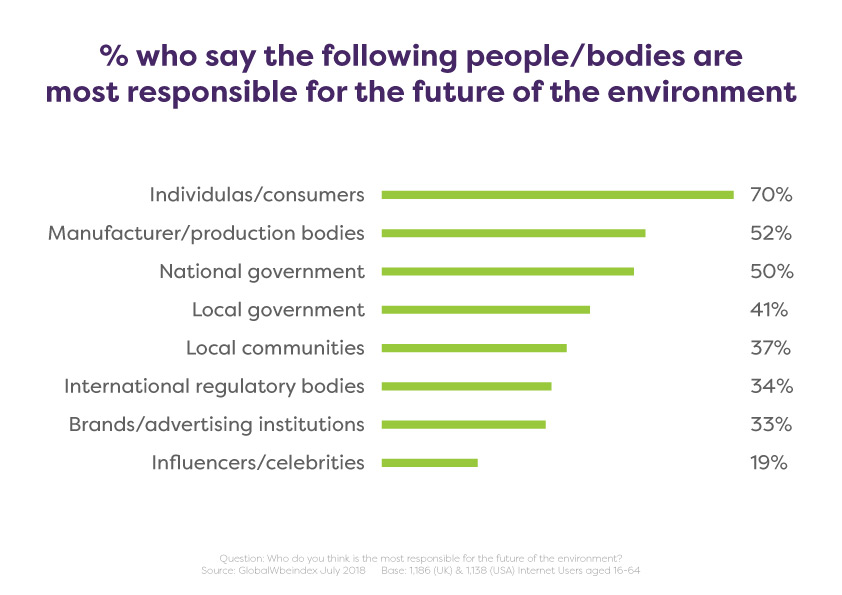 Virtual reality (VR) and augmented reality (AR) will see an upsurge. The use of technology to facilitate these experiences is already being adopted by larger companies. As technology improves and becomes more affordable and accessible, smaller businesses will adopt these strategies for increasing consumer engagement.
AI powered technology can be a great assistance to your marketing efforts.
Branded content and visual content design will become more important than ever. The marketplace is getting busier and more crowded. Whether it be on digital platforms, TV, streaming services, or audio platforms, getting your brand out there will be key to success. Spotify is just one example of a platform using branded audio content to amplify brands and investing heavily in voice search technology.
Stopping the scroll and connecting with people through good visual content design will require an investment, but without it, you are setting your business up for failure.
We know that audiences like to consume visual content over plain text, so as a marketer, you need to respond to this marketing trend in 2022. Platforms such as Pinterest and Google are investing heavily into visual search technology and platforms such as LinkedIn frown upon images that lack ALT text. In fact, if your website lacks ALT text for images, your ranking will drop as accessibility and the ability for visual and voice search technology continues to develop.
Will you be using visual content?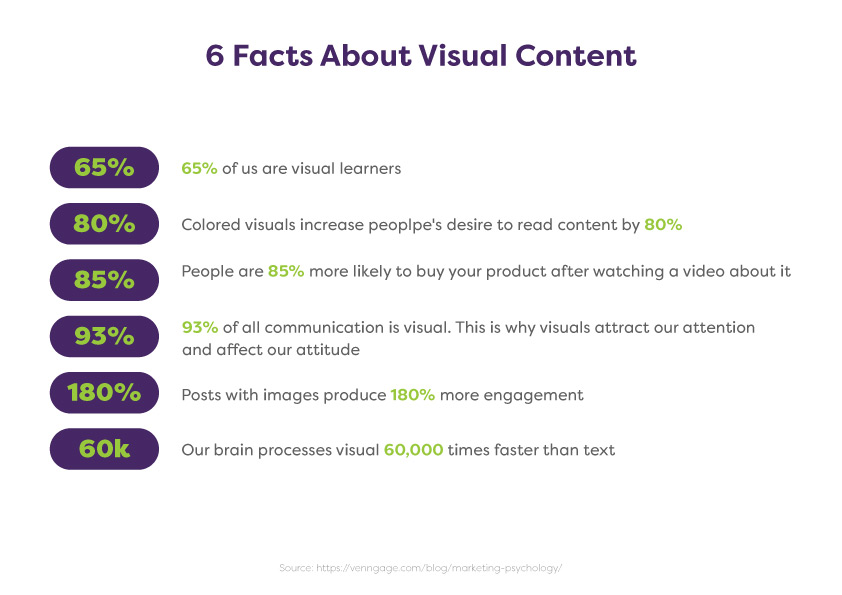 How will you be building relationships?
Psychology and personalisation and the impact on customer engagement will become an even more essential marketing trend to understand in 2022. It's not just about engaging with the 'head', but also with the 'heart' which will become a big driver of decision making.
A study by Epsilon, 80% of consumers reported that they would do business with a brand that provides a personalised experience.
Improvements in data collection, analytical tools, and a more sophisticated gathering of insights across multiple platforms, will allow marketers to create more personalised journeys for consumers.
Instant messaging and conversational marketing are other tools and tactics that can be utilised. There are numerous great bot tools around that do this well and allow for brands to communicate with audiences 24/7.
Using a bot to create a conversation is a great first step toward building a relationship and addressing consumer enquiries immediately. In fact, the big shift has been that people now expect interaction with a brand 24/7 and their questions answered immediately.
There are many platforms out there that rely solely on bots to interact with consumers and push them through the buyer journey, without ever speaking to a 'real person'. The success of this bot tactic is to ensure you have invested in creating conversational pieces that solve the search enquiry and represent a human-centred interaction.
Where does strategic transformation come in?
Strategic marketing transformation, as defined by the Marketing Insider Group, is a term used to describe a process when a business operating without a strategic marketing plan evolves by changing its fundamental business processes and procedure.
Undergoing a marketing transformation can have benefits for businesses. These include increased brand awareness, better ROI, improved customer experiences, better trained and retained staff, resulting in an overall increase in revenue and profits.
But to achieve this, a strategic marketing planning needs to define goals which in turn determines marketing tactics. These days businesses need to employ things such as content design and marketing, SEO, email marketing, social media deployment and incorporate both online and offline tactics.
At Content Box™ we understand the complexities of adapting to these key marketing trends as 2022 approaches, and why many businesses struggle to make a success of their marketing efforts.
As content design and marketing specialists, we help businesses by providing strategic advice on all things marketing.
We assist with defining the ideal customer, articulating the core message, conducting competitor analysis, defining customer personas and mapping the buyer journey. Importantly we specialise in content design, to help you build a valuable bank of content resources for your business.
Here's how it works:
PHASE 1: STRATEGY
We believe that a strong marketing strategy is at the core of every marketing success. Without this, any tactical marketing efforts risk failure and poor ROI.
PHASE 2: TACTICS
In phase two, we identify the right kind of tactics to use to meet your strategic goals, and then work to develop and implement your content.
PHASE 3: IMPLEMENTATION
Once the strategy has been defined and the tactics identified, only then do we create all your content – the words and visuals. We also offer advice on what content you should deliver at each customer touchpoint.
In summary, right now is the time to be planning your 2022 marketing strategy. So, if you are unsure how your current marketing stacks up, I invite to you complete a FREE Marketing Check Up.
It will take you around 7-10 minutes, but the results will be invaluable for setting your strategic direction for the year ahead.
Marketing trends come and go, but the basics remain the same: understand your audience, communicate effectively and with them regularly. That's why customer-centric content is the best way to establish and build solid customer relationships.
The problem that most business have is, they don't know what, when or how to do this.
We believe in making marketing easier, more effective, and affordable.
Start your FREE Marketing Check Up HERE!
And one last thing:
Sneak Peak – Colour Trends for 2022!
Do you know what the colour trends will be in 2022 especially as we know that visual engagement is key to marketing success and colour choice is vital in any kind of visual marketing.
Adobe has just released the latest list of colour trends for 2022 to include calming coral, velvet violet, pacific pink and greens, so make sure some of these are at the core of any design work you embark on.
By Stacy Farrell
Founder and Visual Enthusiast
Content Box™
Content Box Marketing Check Up
Answer a few questions about your marketing to see how you're doing. You'll get instant access to a detailed Check Up Report along with suggestions for improvement and marketing tips via email.