Content marketing today is playing a far more critical role in business's marketing practices across every industry. So, if you've been generating content for a while, you would have developed a valuable "bank" of content resources in your content marketing plan. Like any media content, over time it dates as tactics, innovations, SEO and industry trends change. So, don't let old content just sit there unutilised gathering dust, when simply repurposing it can make it valuable to your ongoing marketing tactics.
Put simply, there is no need to reinvent the wheel, as repurposing old content can increase your traffic 300%, and it's an easy, low-cost way to get more ROI out of what you have already created. It will save you time and money on new content creation, and also draw new traffic to your site. Here are our 5 steps to getting your old content repurposed and working harder for you:
1. Updating latest industry trends will revitalise existing content
Many businesses have created informational content that provides readers in-depth information on their industry, and this content can continue to be useful for many years. 
However, in a fast-moving world, even the savviest industry information dates over time, and will need refreshing to ensure it is relevant, informative, and reflecting current trends.
Take our content marketing for example, where we generate blogs regularly, covering topics from design services and content marketing strategy to visual marketing, consumer mindset and current marketing trends. In fact, a wide range of digital marketing topics have been covered, including an informational blog piece on Content and SEO. While most of it can remain relevant over time, specific updates will be necessary as search engines regularly change their algorithms, technology becomes more "intelligent", AI plays a bigger role, and industry best practices shift. 
When refreshing marketing content that has previously been published, always acknowledge it has been updated to reflect the latest on the given topic. This reaffirms to your audience your position as an industry expert. It also attracts a new audience and importantly, generates an even better standing in search results.
2. Add multi-media to engage and retain your audience's attention
These days, consumers are expecting to be engaged by interesting content in differing ways. Reading long volumes of text requires focus and so can be quite demanding depending upon the way it has been written and structured. 
All blog posts, whether long or short, should be informative and engaging, which is where the role of visual marketing can greatly enhance and retain your audience's attention. Visual engagement stops the quick scroll and stimulates the brain in a different way to engage. 
But how can you enhance visual content for your marketing?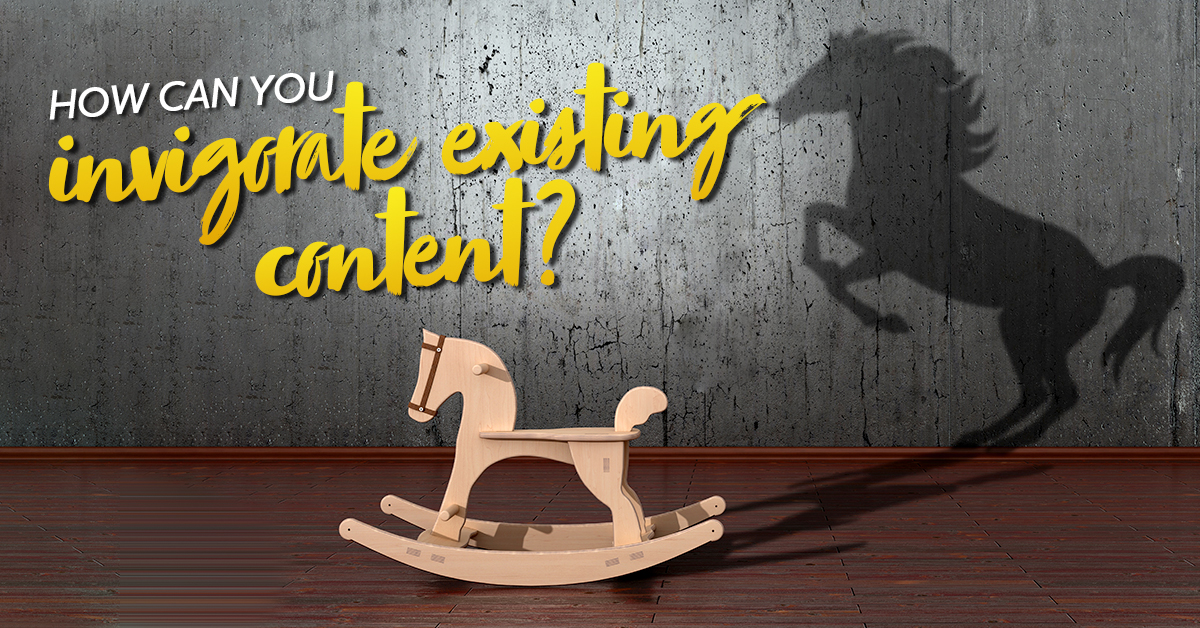 Video
Video has become an increasingly popular tool to ignite someone's interest in existing content marketing. As we have done with our Content Bites video series, we have repurposed blog content and turned it into short, 60 second Vlogs.

These Vlogs provide the option for a visitor who is too busy, or who can't be bothered to read an entire post, to watch a short video presenting a summary of the information in the post. The visual engagement of a Vlog brings new life and engagement to already published information.
Infographics
Infographics are a fun, eye-catching and easy to follow way to repurpose your content. They don't need to be complicated, but need to be cleverly laid out so they convey a lot of meaning through visual engagement. See our Marketing System infographic that is simple, but conveys a lot of information and has been repurposed from already published blog posts.
You will save time in the copywriting process and an infographic helps you to attract a new audience. While someone may not have time to read 1,000 words on a topic, a well-designed infographic can easily encapsulate the key highlights of your post.
Check out this article from Visme on helpful tips on what makes a good infographic. 
Podcasts
Podcasts are another popular, high growth medium in Australia with one-third (32%) of Australians saying they listened to podcasts in 2020. Whether it is your podcast or you are a guest of someone else's, they make a great extended resource for your already published content, albeit delivered a different way. 
Click here for a good example of many blog posts condensed into a guest podcast a colleague did on the How To Do Marketing Show with Jane Hillsdon. For simple steps to get a podcast up and running, see this article from Kevin Jordan on the Duct Tape Marketing website. It takes you through the 10 recommended steps to get your show up and running.
Our final tip, because you will be using existing content to create dynamic media, it's much easier to script out what you need and get it done. First, distil the written content down to a list of main bullet points with supporting information. Then create multi-media resources to cover each of the key elements and talk only about the supporting point to that element. It's not about the length of the video or podcast, it is about the content that is being shared.
3. Leveraging Your Video Content in a Podcast as Part of a Content Marketing Plan
It makes good business sense in a successful content marketing plan to leverage all your content and get as much additional exposure out of it as possible. So, turning your video into audio podcasts has a number of benefits, as everybody has preferred ways to consume content; some like to watch videos and others like to listen. By repurposing your written video content into audio content, you can widen your reach and connect with target audience members that you wouldn't have encountered before. 
As an example, a bathroom renovation business has produced a video, taking people through the stages of a bathroom renovation, from quoting, planning, to selecting the tiles, bathroom fittings, materials and then managing renovation timelines. 
The video alone has generated plenty of views and driven traffic to the website. The content has proven invaluable to potential customers and attracts positive attention to the business. 
To take it a step further, by using the audio from that video and transforming it into a podcast episode, you have more opportunities to reach audiences through the medium that works best for them. 
When your podcasts are ready for download, put them up on the platform of your choosing, whether it's your own website or a media hosting platform like Buzzsprout, you have to let people know it exists. So start promoting your podcast across your social media accounts and send an announcement message to your email subscribers. 
4. Now Turn Your Podcast into a Blog Post
Rather than just leave the bathroom renovation as a video and a podcast, the podcast episode's content can be transcribed and easily converted into SEO-rich blog posts – about each of the individual renovation steps. If you need transcription services, Rev is fast, accurate and affordable.
This is a highly effective way to create great content with only a little bit of editing. By creating a written version of your podcast, your reach will increase because you offer content to suit multiple people's preferences. This gives people who prefer to read the opportunity to engage with your podcast via an alternative form of content. Blogposts will also help your SEO because search engines can't scroll video or audio, so creating a blog post from your podcast content will help your rankings.
5. Leveraging your Blog Posts across Social Media
Social media today is a vital content marketing channel for businesses of all types and sizes. So, it makes perfect business sense to leverage your existing content and repurpose it in different ways in social media that aligns with your overall social media strategy.
Your existing blog posts already contain powerful content for repurposing in social media. Extracting relevant snippets from your blog posts can quickly build a huge resource of social media-friendly content, which will then drive new traffic back to your website. 
You can do things like:
Create micro-blogs on Instagram by sharing snippets from a variety of your in-depth blog posts

Create a Twitter thread by extracting important snippets from your blog posts

Use insightful quotes from your podcast episode, videos, or blog posts to create eye catching graphics – to help get you started:

here's an article

on creating a quote graphic
Lead Magnets
Lead magnets are an essential part of a marketing toolbox today. If you have a series of blog posts around the same topic, compile them into an eBook of content simply to use as a bonus "lead magnet." Each blog post can appear as a section of your eBook, perhaps expanding the content of each blog post, to write an introduction and conclusion. Then, you can use a free tool like Canva to compile these posts together.
With minimal costs in repurposing, this special "lead magnet" eBook can lift your visibility across other media in your content marketing plan and help build your email list of new prospects with content that already exists. 
Hub Pages
Hub Pages are just another way of organising your content into a useful and meaningful bank of resources. Most businesses have their online content scattered haphazardly, with videos and podcast episodes across various pages on their websites and hosted on external platforms. This is not the best way to engage a visitor and is certainly not user friendly.
Organise your content into your own little Wikipedia and then have all the content that you have generated about that topic in one place. It is much like looking at a table of contents from a book, but in a digital version.
You start by identifying a broad topic that's of interest to your readers, then provide everything they need to know about that topic. This keeps them on your website and a specific page for longer and creates a great user experience, as everything they need to know is in the one place.
Visitors return again and again to dig deeper on a topic and share the posts with their colleagues. Search engines take note of this behaviour, realise that their content is useful, and then their hub page moves up the rankings.
When done correctly, hub pages can get your business ranking on the first page of results for relevant search terms. You achieve that strong ranking by repurposing and reorganising existing content, rather than having to start from scratch.
Final Considerations 
Creating new content requires a well-defined content marketing strategy, a content calendar and the skills to make the content itself. Copywriting involves research and revision, while video and podcasting means you need to either adopt production skills and be able to edit using video software and audio or engage a content marketing professional to coordinate it all for you. 
One of the reasons you may opt to use a content marketing professional is they will ensure that your video, podcast and other marketing collateral will all be strategically aligned in your content marketing plan – and all design and messaging are brand compliant.
Repurposing your existing content allows you to reap the greatest benefits from that initial investment, giving it a longer shelf life with new audiences – which also boosts your SEO standing and grows your reach even further!
For more information contact us now!
(+612) 9440 9369
www.contentbox.com.au
Content Box Marketing Check Up
Answer a few questions about your marketing to see how you're doing. You'll get instant access to a detailed Check Up Report along with suggestions for improvement and marketing tips via email.