They say a picture is worth 1,000 words. But what about a well-designed and placed graphic?
Graphic design is important to businesses and organisations for a variety of reasons.
In its most basic form, graphic design is the process of creating visual communications that are both appealing and effective in engaging the intended audience.
This covers everything from a company logo to the design that is featured on their website, their social media profiles and across all marketing collaterals.
The role of graphic design is to communicate with an audience through the use of images, symbols, colours, typography, white space and/or words in a way that is both visually appealing and effective.
When done well, graphic design can be an extremely powerful and persuasive marketing tool.
And when you consider more than 65% of us are visual learners, then you can truly start to appreciate the importance of graphic design when it comes to achieving the cut-through you desire from your audience.
For the purposes of this article, we will focus on what we believe to be the top five benefits of graphic design that are most important to businesses.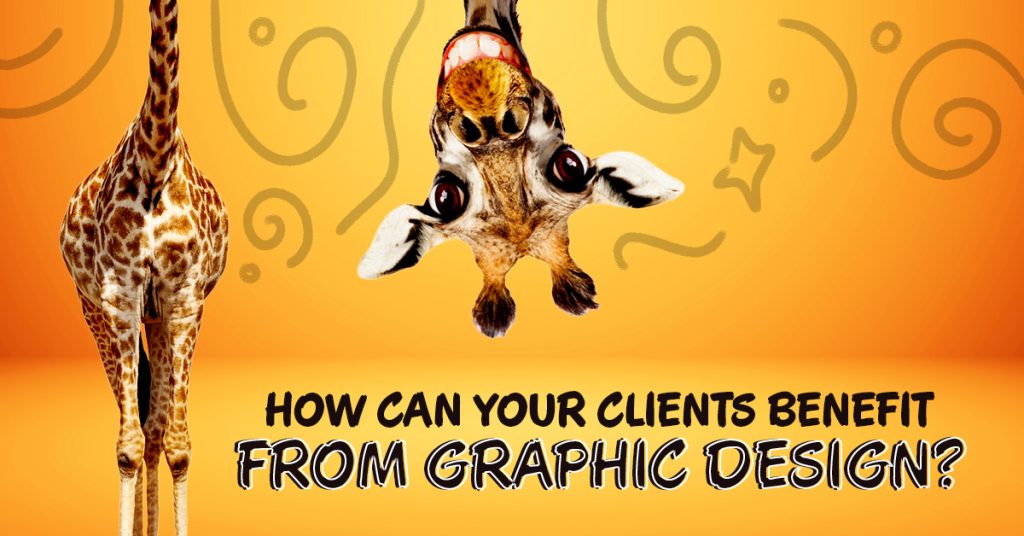 1. Graphic design can help to build a strong and memorable brand identity
Think of all the blue-chip companies. The ones you interact with on an almost daily basis.
When you close your eyes and think of them, what pops into your head? More than likely, it's their logo and branding.
It's not hard to visually recall Nike, Apple, McDonalds, Qantas, Google, Coca-Cola or Mercedes-Benz, just to name a few.
Graphic design plays a pivotal role in the development and evolution of a company's brand identity.
A company's logo is often the starting point for its visual identity. This then extends to cover everything from the colours they use, to the fonts they select and the style of their imagery.
All these elements need to be carefully considered and selected to ensure they work together to create a consistent and recognisable brand identity that accurately reflects the company's messaging, values, mission, and is easy to recall.
Meeting all these requirements can be a complex process that requires creativity, problem solving, ideation, good communication and a unique ability to listen and visually interpret a brief.
Being able to use and manipulate the design software is something that can be learned. However, a good graphic designer needs more than just software skills.
2. Graphic design can help businesses get ahead of their competitors
In any given market or industry, there will always be a range of businesses offering similar products or services.
So, how do you make sure your clients' businesses can be ahead of their competitors?
One way is to ensure their marketing materials are designed in a way that makes them look unique, professional, and trustworthy.
Graphic design can help businesses to achieve this by creating a visual identity that is both distinctive and memorable.
3. It can be used to effectively communicate a lot of information FAST!
Graphic design isn't just about flash logos, bright colours and cutting-edge special effects.
Something as simple as an infographic can achieve incredible cut-through, effectively communicating complex ideas quickly, in an easy-to-understand format.
Consider the following…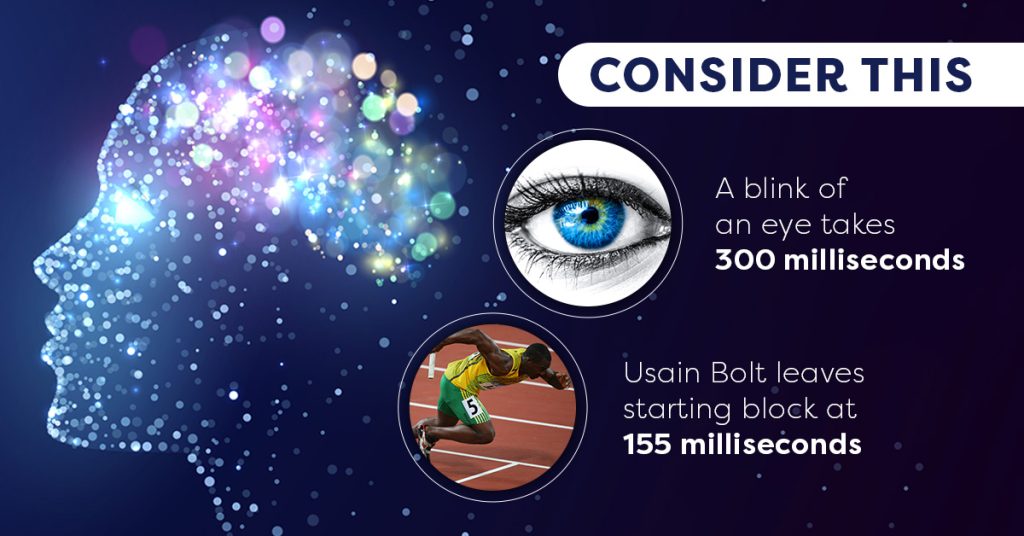 Graphic design can also be used to create powerful marketing collateral such as social posts, websites, flyers, posters, and billboards – all of which can be extremely effective in raising awareness of a business or promoting a special offer or event.
4. It can help businesses to build trust and credibility
The way a business presents itself visually says a lot about the company as a whole.
If a business' marketing materials are well designed and look professional, it will subconsciously communicate to potential customers that the company is credible and trustworthy.
On the other hand, if a business' marketing materials are poorly designed, it will give the impression that the company is amateurish and not to be trusted.
Colour choice, typography and white space are just a couple of critical elements that are integral to creating a design that is memorable and oozes credibility.
5. It can boost sales and ROI
In the end, every business wants to increase sales and ROI.
And ensuring your clients have an effective graphic design strategy for their business can play a pivotal role in achieving this.
The good news for your marketing business is that Statista projects the revenue of graphic design services in the U.S. alone will amount to approximately $US11.3 billion by 2024.
Who wouldn't want a slice of that revenue stream in their marketing business?
Graphic design can be used to create high-impact marketing materials that are highly effective in raising awareness of a product or service and driving sales.
In other words, it's good for your client – and therefore it's good for you.
It can also be used to develop a strong and recognisable brand identity that will build trust and credibility with potential customers, making them more likely to do business with your clients.
With the rising influence of social media, visual communication is only going to become increasingly important. For many people, their interaction with brands comes via the way of social media posts and stories, where the visual leads the charge in capturing the prospect's attention and the copy is more of a supporting act.
To drive home this point, let us leave you with this thought.
92.6% of people say the visual dimension is the number one influencing factor affecting purchasing decisions.
How do you know if you need graphic design?
If you're not a designer yourself, you might be wondering how do I know if I need graphic design services.

Here are some key questions to ask yourself
Does my branding look outdated or amateurish?
Do my marketing materials look unprofessional or lacklustre?
Am I having trouble communicating key messages to their target audience?
Do I need help creating high-impact marketing materials?
Am I struggling to stand out from their competitors?
If you answer yes to any of these questions, then you are likely in need of some graphic design assistance!
How to get started with graphic design, when you aren't a designer?
If you don't have any design experience yourself, that's okay! The most obvious option would be to hire a graphic designer.
This is a great solution if you have the budget for it, and you're confident in your ability to manage designers, oversee the design process while staying on top of the brief and managing the scope of work efficiently.
If you don't have the budget to hire a designer but you're confident you can manage the design process, there is a wealth of websites where freelancers promote their services within the "gig" economy.
There are sites like Design Pickle that offer a tech platform for uploading jobs and tap into the global design workforce for an ongoing monthly subscription. Canva offers a DIY template-based platform that requires an investment in your time to pull designs together.
Sites like Fiverr and Upwork will connect you with a huge variety of contractors all over the world at reasonable rates that should leave you a fair bit of margin to play with.
However, be prepared to deal with miscommunication, huge variation in brief interpretation, challenges in aligning visual strategy with marketing strategy and a huge variety in terms of quality of work. Just because someone can use the software tools, doesn't mean they are designers.
Otherwise partner with a reliable and affordable agency such at Content Box.
What makes a good graphic designer?
Good designers are:
Problems solvers who can think outside the box to generate multiple solutions to an issue.
Creative thinkers with excellent visual literacy skills to convey ideas through visual strategies.
Time managers as they are often managing multiple projects at once and can meet deadlines under pressure.
Accurate and analytical to ensure that mistakes and inconsistencies are corrected before they become an issue.
Great communicators who can demonstrate active listening and convey persuasive solutions, not just be told what to do.
Also, remember, consistency is a crucial element of successful visual communication. When you are outsourcing to different people, that's going to be very hard to maintain.
You might find that graphic design contractor who is great to start with, but over time find that they start to miss deadlines, rush work, or prioritise bigger jobs over your smaller ones, making delivery to your clients unreliable and inconsistent.
The other option is to partner with a white label graphic design service provider.
What makes a good graphic design partner?
A good graphic design provider who you can speak with, will handle not only all the design work, but will also provide guidance, and the tools you need to complete the brief and have a successful design conversation with your clients.
They will also ask key strategic questions, identify potential problems ahead of time, and provide suggestions and ideas that you may not have even thought of.
For repeat or retainer clients, they will be able to deliver a consistent service, and partner with you to ensure that your clients are happy, while delivering high standards of graphic design work time and time again.
The longer the relationship, the more they can understand the kind of clients you work with, and proactively suggest ways to upsell graphic design services into the marketing work you are doing.
After all, their success is dependent on your success.
If you're looking for an easy way to add graphic design services into your marketing services mix, partnering with an on demand graphic design provider, like Content Box is a great solution.
We offer on demand  graphic design services that allow you to scale your design capability efficiently and affordably, without the fixed overheads of another employee or the limitations of online design platforms.
Our on demand pricing is affordable and flexible, with no lock in contracts and do not require an ongoing monthly credit card subscription. Best of all you can speak to a 'real' person, not a bot!
Not only that, we also pride ourselves on being your 'valued partner' offering you all the advice, guidance and support for your graphic design projects. The more success you enjoy, the more success we enjoy!
To view some of our design projects from our clients around the world click here
Finally, one last piece of advice…
There are lots of on demand graphic design solutions out there.
However, not all of them are the same. Do your research! Make sure you are comparing apples with apples before deciding on which one is right for you.
And ultimately, you are looking for the best solution that will bring added value to your clients, increased revenues for your business, and make design easy for you!
By Stacy Farrell
Founder and Visual Enthusiast, Content Box.
… as featured in the Australian Business Journal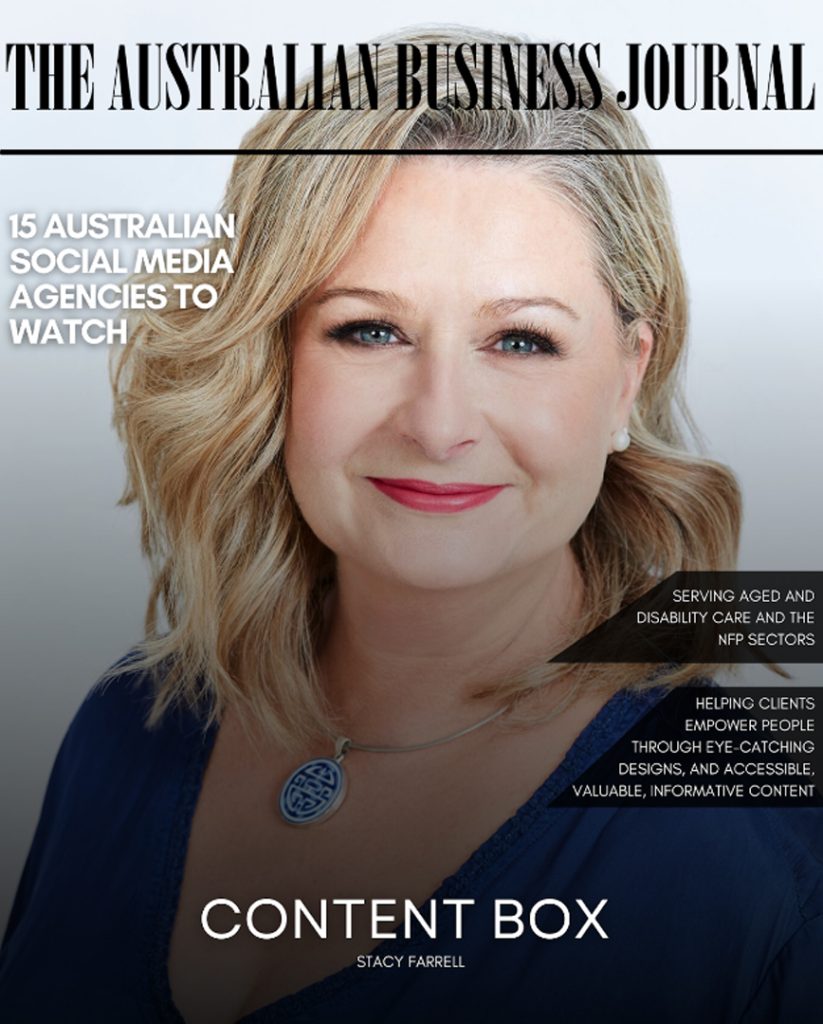 Content Box Marketing Check Up
Answer a few questions about your marketing to see how you're doing. You'll get instant access to a detailed Check Up Report along with suggestions for improvement and marketing tips via email.